November 16, 2023
Milesbrand Wins 4 MAME Awards for Creative Branding and Marketing
Milesbrand is excited to announce that our team was the recipient of 4 MAME Awards, given by the Home Builders Association of Metro Denver's Sales and Marketing Council.
The annual gala was held November 11, 2023, at the Hyatt Regency Denver at the Colorado Convention Center. The MAME (Marketing and Merchandising Excellence) Awards recognize the best of community planning, architecture, interior design, advertising, promotions, and the homebuilding industry's finest professionals. For decades, these awards have celebrated achievements across the building industry and showcased the talent, dedication, and perseverance of many Denver housing professionals.
Selected by a group of industry experts from around the country, this year's award winners highlight sensational trends and innovation in design, planning and building. Congratulations to all the other remarkable 2023 MAME Award winners!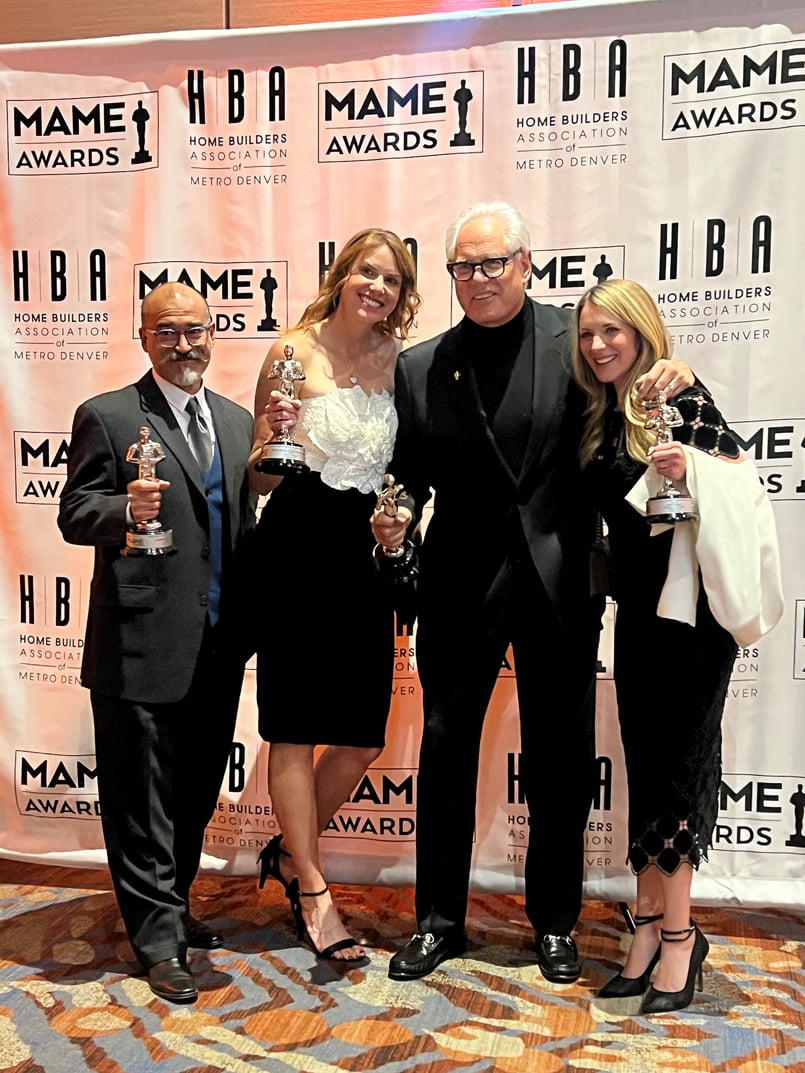 From Left to Right: Chris White (Visual Strategist), Corie Flemister (Director of Client Services) and Genevieve Benson (Director of Business Development)

Here are the 4 MAME Awards our team earned for our excellent creative branding for Solstice, a Shea Homes community.
Community of the Year
Solstice is a boutique new home community by Shea Homes located in Littleton, Colorado. Rooted in nature, home and family, this community is designed for homeowners from all walks, or rhythms, of life in Colorado – whether first-time buyers, move-up families or active adults. Located along the High Line Canal, next door to Chatfield Lake and State Park, its incredible location that offers access to a wide array of exciting outdoor activities fully inspired our team's branding and marketing efforts and led to an inspiring campaign for this unique community.
Solstice offers offers three key advantages against competitors that our creative team leveraged to set it apart for success!
The community was positioned as a smaller, more intimate " boutique" community.
The High Line Canal intersects the middle of the community, offering direct access to 71 miles of hiking, biking, and horseback riding providing a unique attribute as a main focal point.
The community is located directly adjacent to a state park and lake, providing an additional 3,894 acres of open space further differentiating this community.
Our creative team developed and leveraged the tagline "Home Sweet High Line" to claim the High Line Canal as a main amenity, a promise no other community can make. A focus was also included on the contiguous proximity to Chatfield State Park and Lake as an additional amenity.
Beautiful haiku poetry and year-round community events were incorporated to further differentiate the tone and personality of the community

The branding and marketing initiatives helped produce a steady backlog of home buyers resulting in total traffic to the community of 23,838 and 525 sales through August 2023.
Best Graphic Continuity
When designing the logo and brand for Solstice, our goal was to create a cohesive brand that stood the test of time for this unique, master-planned community. We focused on creating strategic marketing materials that showcased graphic continuity from the community logo through the smallest elements. Our team successfully created consistent brand messaging throughout all touchpoints in a robust omni-channel marketing strategy. The result was a unified community brand identity and a seamless customer experience.
Best Radio
Our beautiful haiku poetry was highlighted in this award-winning radio spot, Tail Wags, showcased as a Solstice Highline Haiku and paying of the community's brand promise, "Home Sweet High Line".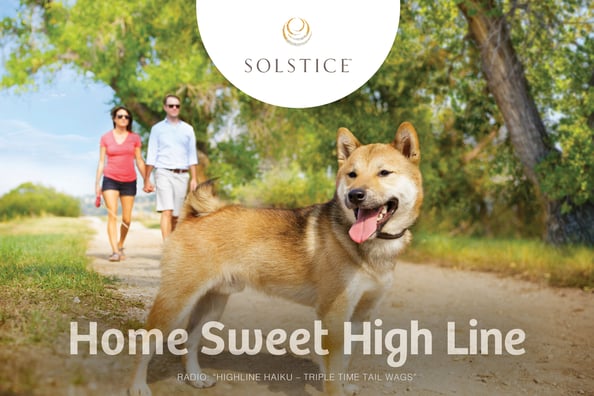 Best Digital Marketing Campaign
Our Solstice digital marketing campaign includes consistent branding throughout all touchpoints including website, landing page, digital brochure, PPC, eblasts (Nurturing and Acquisition), digital display, social media and streaming audio. This extensive omni-channel approach assisted in producing a steady backlog of home buyers resulting in 525 sales through August 2023.
Experience the 'From Land to Brand' Promise with Milesbrand
We're proud to be honored with these fantastic honors, but more importantly, we can't wait to continue surpassing expectations for creative branding and real estate marketing! As the most awarded real estate branding agency, we're incredibly proud of our team's prestigious achievements, as well as the opportunity to deliver exceptional work to our amazing clients.
When you choose to work with Milesbrand, you're receiving the best creative branding and real estate marketing in the country. Let us know how we can help you achieve award-winning results, whether it's with the help of our incredible marketing strategies, creative branding and design, or our outstanding campaigns!