July 22, 2020
Real Estate Personas and Target Audiences in 6 Steps
Real estate personas and target audiences—what are they and how can they help with your marketing initiatives?
In this article, we'll cover why personas can make such a big impact for brands, as well as how to implement concrete strategy over blindfire.
But first, you should know persona and target audience development isn't an obvious step for most brands. The fact that you're here now already puts you well ahead of a crowded curve.
This is because most real estate brands either don't understand, or completely ignore, the idea of building target personas.
Now, let's learn what we mean by that.
Looking for specifics on social media marketing? Click here for social media objectives and challenges, or click here for social media strategy.
Why do we use real estate personas?
In the early stages of developing your brand, the chances are high you've been through moments of serious introspection. Who are you? What is your brand personality?
For questions like these, it's both necessary and natural to seek answers. If you've sketched out things like core values, a vision statement, principles, or voice and tone, then you've already entertained part of this concept.
But from there, with a solid idea of who you are, it only follows to ask, "Who are you for?"
This is what personas are all about. Knowing who you are is not the same as knowing who you will be speaking to. Or better yet, who you will be attracting. Personas replace building it and hoping they'll come with tangible strategy.
In this case, the strategy is an added understanding of our target audiences. And the key benefit? Every decision in developing and publishing content and marketing materials will have more empathy baked-in than it otherwise would.
Here's why empathy matters:
Empathy means relevance in a time when irrelevance isn't tolerated. Empathy means adding value, not noise. Most importantly, empathy demonstrates your understanding that you aren't for everyone. Because no one is.
And it just so happens, empathy is also how you come up with good ideas for marketing content.
The Content Framework
Whether on your website, through social media, or any other point of contact with your audience, you are communicating with content.
Personas help answer the tough question, "What should that content be, exactly?"
With real estate personas, you'll be able to ideate for content using the following framework:
As a [persona], I need a [content type] about [topic] so I can [value statement].
To give an example, let's say you are a home builder or master planned community developer. Depending on a few factors, one of your target personas might be a millennial first-time homebuyer.
Using the content framework, you may decide a first-time buyer needs a 60-second video about the pre-approval process so they can more confidently take next steps towards buying their first home.
But with your handful of personas, and a deep well of content options, how can you be sure you're serving relevant content to your personas? And how do you decide on personas in the first place?
In the next section, that will become clear.
Let's build a real estate persona: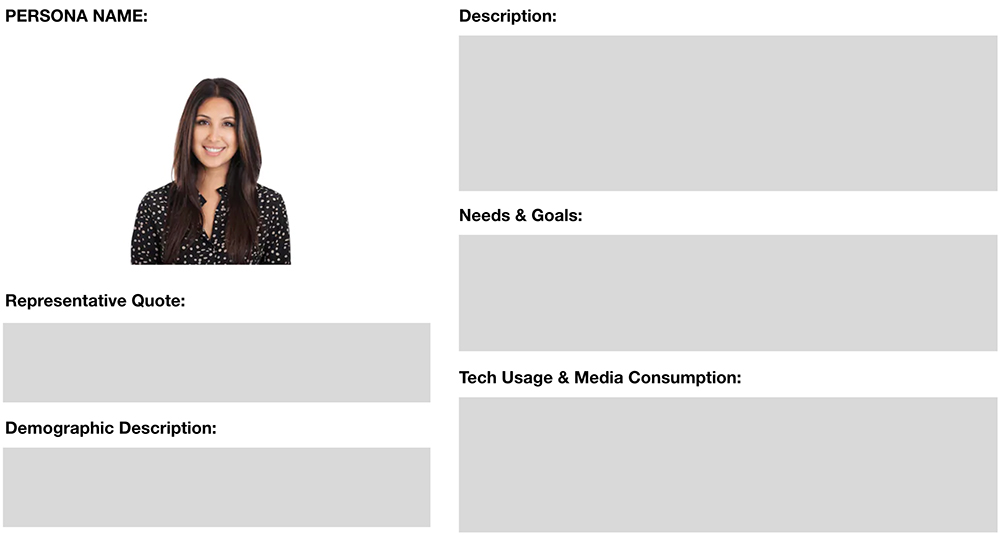 Narrowing down your focus to 3-5 personas can seem tough—or perhaps shortsighted. After all, even two buyers of the exact same age can be wildly different people.
But think about some of your current or potential buyers. Where are the commonalities? Where can you safely generalize? Who is driving most of your revenue and would you like that to change?
Remember: Persona development is not an exercise in describing your every last customer. It is about aggregating similar-enough characteristics that allow you to interact with the world through a collective lens.
And however wide that lens, it will always be much more targeted than using none at all.
With that said, let's walk through the steps for building real estate personas. In this case, as it relates to the new home industry.
Persona Name and Picture
First things first, the persona name, picture and—for those in B2B—the job title.
Luckily, this isn't the time to overthink. The persona name is simply a memorable, descriptive, and humanizing way to reference each of your personas.
Memorable, because you and your team will often reference any given persona. Descriptive, because it avoids confusion and adds distinction where necessary. And humanizing, because as artificial as these "people" are, you want them to have a very real place in your mind.
Then, find a usable headshot somewhere online that you feel best represents them.
Here are a few name examples you might find in the real estate industry:
First-Time Sarah
Empty-Nester Neil
Professional Peter
Active Amber
Millennial Mark
For our persona today, we are going with Young Professional Paige, who is a potential first-time homebuyer.
Note: Not all businesses—particularly those in B2B—need to give their personas real first names. Sometimes, it's more effective to use additional descriptors instead of names like "Peter" or "Mary".
Description
Next, let's take a look at the description. This is where you can sketch a brief story describing this person's place in life and perhaps what led them there. If someone were to ask your persona, "Tell me a little about yourself", this would be their response (albeit in the third person).
Here's Paige's:
"After post-undergrad nursing school and a brief job search, Paige started her nursing career. Now, five years later, she's content with her job and confident in her trajectory. She was married to her long-term boyfriend in 2018, and they had their first child last summer. Their central location has been convenient, but with the start of her new family, plus an opportunity to invest in the future, the suburbs have become attractive. She has a great group of friends, but as a new mom, she doesn't go out as often as she used to."
Needs and Goals
Needs and goals are less about who the persona is, and more about what they are trying to accomplish.
Fortunately, this is not an exhaustive list of everything this person needs in life. This is a list of their problems as they relate to your solutions. Their goals, your offer.
So, for Paige:
"Her biggest goal is to manage the stress of work while taking care of her family and building their future. With purchases, she needs brands that offer quality and commit to values. She wants to buy a home, but the price needs to be reasonable, and schools are becoming top-of-mind. As a customer, she needs to feel understood, included, and that she is contributing to something meaningful."
Pause Here
With just those first three sections completed, take a brief moment to reflect on what may already be happening to you.
In a sense, the unimaginative "Millennial Homebuyer" most builders hope to serve is becoming something of substance. Something with weight.
Even in the abstract, she is becoming a person. Complete with needs, dreams, fears and uncertainty. She might even sound like someone you know.
If it isn't yet obvious how this can benefit your brand, your offers, and your products, it will be soon.
Demographic Description
For the sake of intuition, let's now jump over to the demographic description.
As you know, this is a timeless concept. And as much as things change, demographics do still matter.
"29 years old. Married with an infant. Household income is $140k. Highly educated. Renting a 2-bedroom with her fiance by City Park."
Representative Quote
In the second-to-last section, a simple statement on behalf of your persona can add the right type of color to an otherwise third-person perspective.
On the drive for empathy, a good quote is the perfect song on the radio. As it relates to a home purchase, here's what we think Paige might have to say:
"I'm grateful for so much in my life, but I have a lot to juggle. I need to make big decisions for my family, but there are just so many, and they have to be the right ones."
Tech Usage and Media Consumption
Finally, what devices and software do you suspect they use and how, specifically, do they use them?
Communication to buyers is now largely a digital process. So why not round out our understanding of each person with an educated guess on how they interface with technology?
Here's what we think for Paige:
"She uses last year's iPhone and a 2015 MacBook. At work, she spends less time online and more on office tech and computers. When she gets a break, she finds herself frequently checking Instagram and texting friends, but is getting more cognizant of the downsides of social media and screen time. Outside of work, she streams shows on Netflix, while periodically checking her phone to keep in the loop."
So What Now?
So there you have it: a living artifact, open to changes, for each persona that can be referenced while:
Developing content
Modifying your product or service
Writing copy for your website, emails, and ads
Sourcing or creating visuals
Branding or rebranding
While not a hard science, real estate personas are a way to bring your brand closer to your audience—a tool to find better ways to connect or offer value.
And in 2020 and beyond, deeper connection, richer emotion, and an over-delivery of value aren't just nice ideas. They're the expectation.
Want to hear who we think your personas are? Click here.