September 29, 2022
Tesoro Viejo Master Planned Community Brand Refresh: Raise Your Expectation
A master-planned community's brand offers consumers a glimpse of the lifestyle it provides and serves as a virtual handshake with prospective buyers. Milesbrand recently worked with McCaffrey Homes to refresh the brand of its master-planned community, Tesoro Viejo.
Tesoro Viejo Overview
Tesoro Viejo is an award-winning, resort-style, master-planned community located in Madera County, minutes north of Fresno, California. The community's main street leads to its Town Center. Modeled after a small town, residents can travel via a system of trails to reach amenities, schools and other places.
McCaffrey Homes' first master-planned community is nationally recognized for its thoughtful design and remarkable amenities. This positions it in the top tier of master-planned communities nationwide.
Nestled on 1,600 acres of gently rolling hills with access to the San Joaquin River, Tesoro Viejo makes every day feel like a vacation, providing better lives for its homeowners. The community is comprised of nine residential villages with affordable homes for the area. With 400 acres of permanently preserved natural open space, residents have ample opportunities for exploring the great outdoors via parks, trails, and recreational areas.
Despite all the community's positive attributes, Tesoro Viejo had a marketing dilemma! As a world-class master-planned community in the Central Valley of California, potential buyers didn't have anything to compare it to, so they didn't understand its caliber and scale. And the timing was right to position the community as the Central Valley was seeing an influx of people moving from Sacramento, San Francisco and San Jose— all markets that would see Tesoro Viejo as a delightful value compared to places they had just left.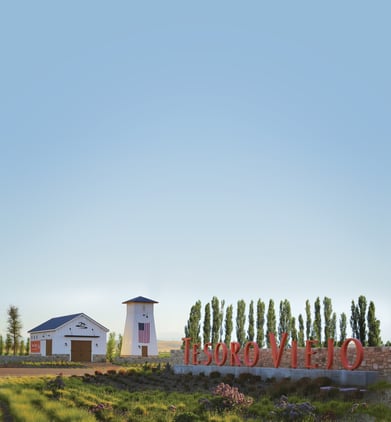 Tesoro Viejo's Brand Promise
Milesbrand approached the project to refresh the Tesoro Viejo brand and re-energize the marketing efforts around this beautiful master-planned community. Driven by the big idea that where you live has never been more critical, Milesbrand is determined to challenge both markets with the discovery of something better. Thus, the brand promise, Raise Your Expectations, was envisioned.
For those living in the Central Valley, Raise Your Expectations speaks to an amenity-rich lifestyle they couldn't previously imagine. And for those moving from further away, it offers a wonderfully unexpected value proposition. The two-sided dilemma was solved, with a win-win for McCaffrey Homes.
Focusing on the idea that where you live is more important than ever, Milesbrand created a landing page, downloadable brochure and video for Tesoro Viejo.
The new branding was achieved through education and discovery, building momentum and amplifying awareness to inspire enthusiastic interest in this signature community.
In the rebranding process, the opportunity was discovered that in delivering a compelling narrative around a community offering an incredible range of amenities, natural appeal and small-town comfort and security. Not to mention room to breathe and the out-the-front door spontaneity it provides its homeowners – for recreation, exploration, and connection.
The Great Outdoors: Nature as a Brand
Outdoor recreation options are a common component of master-planned communities, but Tesoro Viejo raises expectations with its offering. Set on 1,600 acres of land that celebrates the area's breathtaking surroundings, Tesoro Viejo includes a community trail system of 14 miles of walking and biking trails that offer stunning views of the neighborhood and access to the San Joaquin River. The community's approximately 400 acres of trails, parks and preserved space provide a natural backdrop for homebuyers to enjoy, including around 200 acres of natural open space linked by public trails and another 200 acres offering parks and recreation areas programmed for all ages, even furry friends. Another super popular outdoor space is the amphitheater.
Resort-Style Amenities
Complementing the great outdoors are the built amenities. The Ranch House boasts a playful organic form heated swimming pool including three lap lanes, community fire pits, and an outdoor fireplace with lounge space. Two smaller spa pools offer poolside resort-style cabanas perfect for lounging on a hot summer day. A large covered outdoor living room with two billiard tables, two TVs and a fireplace is ideal for neighborhood gatherings. And the BBQ pavilion with adjacent Event Lawn sets the stage for flag football, soccer or group cookouts. The kids have their own space with a separate kids' pool and splash zone with surfboard fountains and a water tower. Workout enthusiasts enjoy state-of-the-art equipment in the club room fitness room. A multi-purpose room with an adjoining prep kitchen is accessible from the covered outdoor living room and available for catering events.
The neighborhood's Town Center is easily accessible and home to the Hub Welcome Center, AXIS Coffee Bar & Eatery, Madera County Sheriff Substation and New Madera County Fire Station #7. Neighbors can grab a cup of Joe, a bite to eat or celebrate happy hour with friends at AXIS Coffee Bar & Eatery. The weekly farmers market is a popular outing for fresh fruits and vegetables. Plans call for a community health and wellness center.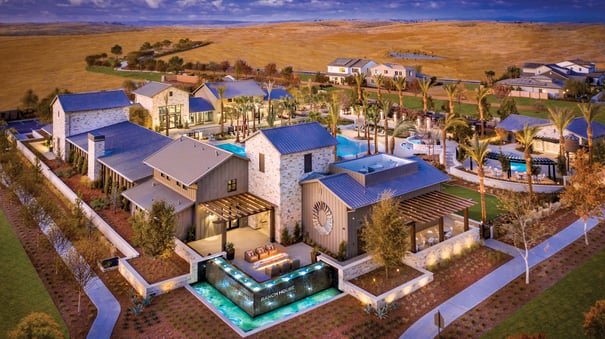 Tesoro Viejo: Raising Expectations
Tesoro Viejo is a resort-style master plan community that makes every day feel like a vacation, providing better lives for its homeowners.
The brand promise, Raise Your Expectations, was the perfect segway from the pandemic as neighborliness returns with a balance of indoor comfort, outdoor vitality, and the feeling that home is a welcome escape. People are looking for a community to provide them with a better life. Raise Your Expectations exceeds our hopes with a promise of better than you have ever dreamed of, raising interest, engagement and the bar.
Achieve an Inspirational Brand with Milesbrand
Does your master-planned community marketing hit the mark? As a developer, it's essential to ensure your brand promise delivers. Creating communities with clear messaging and branding that speaks to the needs and wants of today's home buyers is key to success.
At Milesbrand, we're in the branding business. Talk to our team today to learn how to get started creating the right brand that inspires your target audience to take action! We'll help you identify and communicate your Brand DNA—the most compelling differentiation that sets you apart from the competition.