August 30, 2022
The Importance of Town Centers in Residential Developments
More Americans live in the suburbs today than anywhere else, and as these areas have grown, so have nearby job opportunities and shopping, dining and medical options. Residents of smaller suburban towns no longer have to visit the nearest big city regularly. And most people are happy to miss the traffic associated with big cities.

Suburbanites seek walkability, not just within their neighborhood to the pool or amenities. They want to grab a coffee, dinner or a haircut and leave the car. But small towns don't always offer all the comforts of a big city. To achieve walkability and interconnectedness, mini downtowns are incorporated into residential developments in a throwback to traditional neighborhood development (TND). Called town centers, they are added in the land planning stage by developers and home builders as they envision new communities with a focus on lifestyle and placemaking.
What is a Town Center?
The Urban Land Institute defines a town center as an enduring, walkable, integrated open-air, multi-use development organized around an identifiable and energized public realm where citizens can gather and strengthen their community bonds. Anchored by retail, dining or leisure uses, a town center typically includes a residential component. Town centers also have offices, medical, hospitality, civic and cultural facilities.
Multiple Uses of a Town Center
A mixture of uses is a critical quality defining a town center. The live, work, play concept that we talk about today in residential development creates an active environment for residents with activities both day and night.

Developing a mixture of uses in a new town center or introducing new uses to an existing center is not without challenges.

Because town centers are place-based developments, a sense of place must be established to differentiate a town center from a typical single-use development. In marketing, we often refer to this as placemaking or brand development. Creating a thoughtful well-designed community creates a memorable environment for pedestrians and those arriving by car.

Town centers must be more than just a brand name. They must connect with people at an emotional level and create a sense of community. The integration of multiple uses creates a diverse urban character that people both identify with and enjoy. A mixed-use town center supports an environment that allows for various activities, including working, living, shopping, entertainment and leisure.

The combination of residential, office, retail and civic uses forms a neighborhood or district environment that appeals to the public and is adequately sustained. When executed properly, a town center is a lasting development that holds its value and becomes an enduring asset to the community.
Ave Maria, Florida - a Prime Example of a Thriving Town Center
A prime example of a thriving town center that checks all the boxes above is the town of Ave Maria, Fla. A new home community founded in 2005 and located near Naples, Ave Maria's brand promise is "A Big Kind of Small Town."

In 2015-2016, Ave Maria was ranked the 40th top-selling master plan community in the United States, out of 230 such communities tracked. It also earned the "Community of the Year" for seven straight years (2015-2021), and in 2020, it broke its previous record of new home sales – selling 507 new homes during the year. The community is now ranked 16th on the list of Top Master Planned Communities in the USA for 2022.
Ave Maria: A Big Kind of Small Town
Ave Maria is different because it is like living in a big town with small town charm. And this means not having to sacrifice in terms of choices of convenience. In Ave Maria, residents are merely a stone's throw (or a golf cart ride away) from all the things needed to keep a household running smoothly or delightful places to go out of the house – dining and exploring.

The Town Center at Ave Maria and the Main Street District are both truly the heart of the community. It's the perfect place to socialize with friends, make new friends, grab a bite to eat or do a little shopping.

Ave Maria's Town Center consists of numerous retail shops, dining establishments, financial institutions, medical facilities and service centers. And all are within walking distance on the sidewalks around Annunciation Avenue.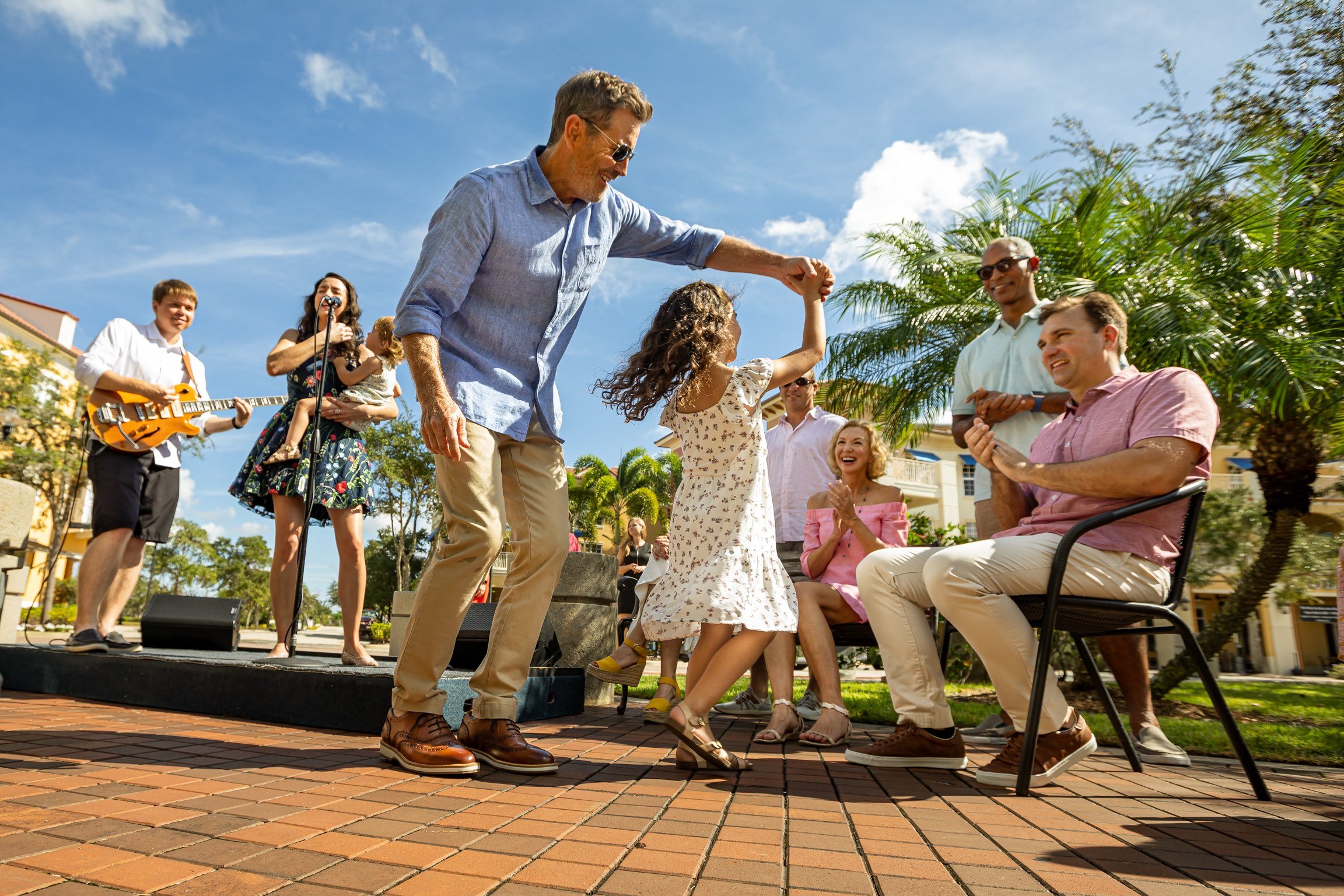 There is no shortage of things to do at Ave Maria. Families can enjoy splashing in the water on a hot day at the water park or a round of golf on one of the two courses. Onsite trails, fields, park and recreation facilities assure that everyone in the family finds an outlet for exercise.
In short, Ave Maria offers the best of big town amenities in a small-town community all in one very special place.
Tactic
Our primary branding and marketing initiatives for Ave Maria include creating a community vision and executing a compelling brand strategy. We designed the community website and implemented a marketing strategy to promote the community, including online and offline marketing strategies.

A full digital media and marketing program was created to include display ads along with traditional tactics included print ads, brochures and several marketing promotions. Video was conceived and developed for digital media efforts and broadcast. Other marketing tactics included billboards and comprehensive community signage. At Milesbrand, we believe in the importance of original lifestyle photography to capture the essence of a community. For Ave Maria, we planned and completed a lifestyle photo shoot at the community to showcase homeowners enjoying the Town Center along with all the community's desirable amenities. The original photography is utilized in all of our marketing efforts for Ave Maria. All of our efforts for Ave Maria had the main objective to capture the essence of Loving Life in a Big Kind of Small Town.
Partner with Milesbrand to Brand Your New Master Planned Community and Town Center
Are you implementing a town center in your future real estate development? Do you need a branding and marketing partner to position your community and town center against your competition? Milesbrand is here to help. We are a full-service agency dedicated to the real estate industry, offering branding services plus traditional and online marketing services. Contact us today for next steps!