October 21, 2021
Building a Strong Real Estate Development Marketing Logo and Name for Brick & Mortar
Real estate brands often provide a feeling of status, membership and identity to its residents that saturates and elevates their lifestyle. Uncovering the identities that the target audience hopes to possess and the groups they desire to fit into is the key to creating a real estate brand that truly resonates with the ideal buyers.
When we worked with the developers behind the Brick & Mortar District, we were tasked with communicating the key benefits of the multi-family development in a way that would inspire its ideal target audience. To do so, our team needed to create an insightful development name, as well as an exceptionally designed real estate logo that would represent to renters a sense of comfort, inclusion and excitement.
Take a look below to discover how our team accessed a universal feeling to deliver a real estate development marketing brand with memorable charm and appeal.
Background
Developers
Brick & Mortar is a mixed-use multi-family real estate development born of a unique collaborative effort between developers Momark and Cardinal. Each developer brings a distinct approach to the development which Milesbrand intended to reflect within its real estate development marketing efforts.
Momark is a developer focused on creating innovative neighborhoods that promote opportunities for connection with the help of friendly spaces, modern shops and lively eateries. Cardinal possesses strong development expertise and is dedicated to employing strategic approaches and pursuing excellent real estate opportunities. Together, these real estate developers formed an incredible multi-family neighborhood with top-tier planning that offers exceptional appeal to renters.
Community
Located in the growing city of Kyle, Texas, Brick & Mortar offers a rental multi-family, mixed-use community with 300 initial residential units, 8,000 square feet of retail, and 6,000 square feet of amenity space. Although the development offers affordability that is common for the area, Brick & Mortar also delivers an unexpectedly standout living experience made possible by human-centered placemaking and curated retail. These elements serve as the development's core lifestyle benefits, as well as a powerful differentiator against competitors.
Target Audience
To determine the messaging strategy for Brick & Mortar, Milesbrand referred to a buyer profile for the multi-family development that outlined those who were most likely to be early renters. During Brick & Mortar's initial phases, the real estate development marketing efforts centered around primarily single individuals or young couples. The overarching motivators for these renters would be the benefits of the community's affordable prices and convenient location. These target groups were made up of individuals who were either unaware of better alternatives to the development or were willing to settle for the real estate opportunities available in Kyle. This audience shares the mentality of feeling socially connected through modern innovation, yet emotionally isolated and stuck with the perception of never having quite enough to be satisfied.
Objective
The overall objective of this project was to establish Brick & Mortar with its target audience and differentiate the development from its market competitors. To do that, our team aimed to convey its advantages through a compelling narrative that would generate strong interest within the area. By creating a sense of place for Brick & Mortar, it became an inviting and desirable destination that inspired the target audience to visit and explore.
Brand Strategy
To develop a powerful real estate brand strategy, Milesbrand tapped into a universal feeling that Brick & Mortar's target audiences were familiar with – the fear of missing out (or FOMO). Although our modern society is now hyper-connected through our devices, many still experience the sense of feeling fragmented and alone. Brick & Mortar offered a resolution to this anxiety by providing a place where people have the opportunity to facilitate new relationships and experience a sense of belonging. When you live within the Brick & Mortar District, you're always at The Hub of What's Happening; in other words, the perfect place to never miss out on any of the action.
Naming Strategy
When it came to naming this epicenter of activity, Milesbrand intended to establish this multi-family real estate development as a true physical haven for finding an escape from digital loneliness. We knew that despite the extent to which technology rules our lives, most people don't want to spend their lives lost in a screen or running from reality – they want to feel a tangible connection with others. Despite the high count of online followers and likes on social media, so many individuals encounter isolation that cannot be assuaged by these virtual affirmations.
That's why the development was dubbed Brick & Mortar, to be known as a place that is dedicated to all things real. To select this title, the naming strategy for this development was supported by focus groups that were held to gauge the genuine thoughts and opinions of the ideal target audience.
As we've all become out of touch with visceral experiences, Brick & Mortar is a reintroduction to a physical reality, where connections occur in person. This multi-family development offers a home where residents enjoy stability in a precarious world. Not only does Brick & Mortar act as a comforting place that residents can count on, but it's also a home they can trust.
Logo Development Process
The perfect logo for Brick & Mortar had to truly capture its essence of contemporary style, connection-based focus and down-to-earth comfort. Brick & Mortar is a multi-family real estate development at the leading edge of change that offers an escape into a unique refuge. To communicate this brand core, we needed a design that offered a look with both bold and heartening elements.
Ultimately, Milesbrand created 15 different logo concepts for Brick & Mortar, each delivering a new take on how to express the development's values of practical comfort and individuality. From vintage styles to classic, contemporary, traditional, distinctive, urban and more, Milesbrand utilized familiar designs to create comfort and implemented striking layouts to present a sense of daring individuality.
In the end, an intuitive logo was selected to reflect and represent the Brick & Mortar District. The final logo offered a circular emblem outline with ridged edges resembling a vintage bottlecap, a symbol of nostalgia and timeless style. Within the circle, the design includes bold speckled lettering, creating a strong design that is modern, yet rustic – a concept that impeccably encapsulates a contemporary spirit with classic charm.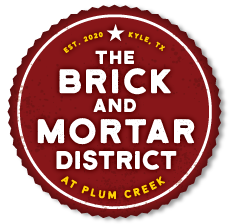 Located within the master-planned community of Plum Creek, the Brick & Mortar District is set to open for sales later this year and offer 300 initial homes. With a total of 138 acres, the building timeline for the multi-family real estate development is expected to extend up to eight years or more to create 2,500 homes.
Create a Powerful Real Estate Development Brand with Milesbrand
For best chances of real estate development marketing success, it's important to develop an intuitive name that resonates with renters and create a striking real estate logo with a memorable design that leads to lasting impressions
Working with Milesbrand means we'll find what makes your brand truly unique, strategize creative ways to communicate those differentiators and build meaningful relationships with potential buyers from the first time they interact with you.
Real estate development marketing and brand creation are what we do best! Whether you are rebranding or developing your real estate brand for the first time, our branding experts can't wait to help. Contact us today to learn more about how we can take you from land to brand through an exceptional naming and logo development process.