January 25, 2023
Home Builder Guide to Marketing in a Housing Recession
INTRODUCTION
The new home industry, once again, finds it is positioned to make course corrections and navigate change. Whether we are in a full-blown recession remains to be seen. However, rising interest rates have cooled the red-hot sales of the past two years. And for those home builders and real estate developers that didn't experience the Great Recession, this situation is sure to be concerning, leaving many grasping for ideas to drive traffic and create much needed sales.

With more than 30 years of experience, Milesbrand is adept at navigating change and creating innovative branding and marketing strategies for home builders and real estate developers in good times and challenging markets. With that in mind, we created this guide for marketing in a downturn. It is a checklist of marketing tactics that home building and real estate development companies can proactively implement to drive leads and make sales.
DOWNLOAD A PDF OF THIS GUIDE: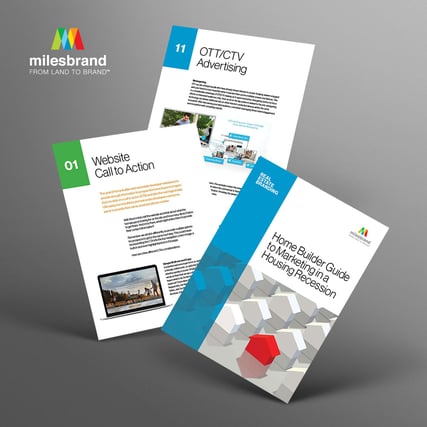 Table of Contents
01 Website Call to Action
02 Search Engine Optimization
03 Organic Social Media
04 Online Sales Counselor
05 Google Pay Per Click
06 Paid Social
07 MLS Listings
08 Third-Party Listing Sites
09 Display Ads
10 Visual Media
11 OTT/CTV Advertising
12 Streaming Audio and Radio
13 Quarterly Home Buyer Promotions
14 Realtor Outreach and Realtor Relations
15 Homeowner Referrals and Referral Programs
16 Events
The Basics
• Website
• SEO
• Organic Social

Website Call to Action
The goal of home builder and real estate developer websites is to provide enough information to prospective home buyers to inspire them to click on a call to action (CTA) and take the next logical step. Ultimately, home builders and real estate developers want prospects to provide their name, email and phone number.

With this in mind, visit the website and think about what the homebuyer is looking for on the site and how many clicks it takes to get there. And once there, what might entice them to provide their contact information?

Remember, we all click differently, so provide multiple options for prospects to get to the same next step. This could mean incorporating the CTA into the top navigation, a hero image, a button and even highlighted text on the page.

Here are a few different CTAs considerations:

• Simple Buttons and Copy

A potential new home buyer forms an opinion in literally milliseconds, so capturing their attention quickly is crucial. Simple buttons with words on them that are eye-catching tell home buyers what to do. Do the buttons on the site stand out? Some ideas of what they can say are Request Info, Get the Details, Sign up for Special Offers, Join Our Interest List, Downloadable Brochure, Schedule Tour, Get Directions, etc.
• Savings and Incentives
Offer buyers something in return for their contact information. A large hero image with "Unlock Savings on Select Homes" or "Special Financing Available" and a "Learn More" button could do the trick. Offering money toward closing costs, rate buy-downs, or other mortgage-related incentives and savings gives home shoppers inspiration to click on that "Save Now!" button. Retailers do it all the time. You visit their website and are immediately offered a special discount for providing an email or phone number and agreeing to text with them. Besides, these are low risk for the potential home buyer. Clicking to find out more doesn't lock them into purchasing a home but instead provides you a second chance to capture their information.
• Urgency
The last day of a promotion, the final home in a community or the last home site with a basement option are all good opportunities to persuade buyers to provide their contact information.
• Keep it Above the Scroll
Back in the day, we worried about keeping ads above the fold of the newspaper; now, it is more about above the scroll of the computer screen. Grab a prospect's attention at the top of the page, and they are likelier to click and navigate the website.
Search Engine Optimization (SEO)
Home builders and real estate developer websites need ongoing search engine optimization (SEO) to perform well in search engine results, especially if the website aims to capture queries from prospective home buyers for competitive keywords. SEO is not a one-and-done strategy. SEO must take place monthly to compete for keywords and continually inform the search engine of the site's relevancy. On-page and off-page tactics are required for success, and with constantly changing algorithms from Google, having a specialist involved ensures success.

Things to consider for organic SEO:

Put Humans First
Writing content for the people browsing websites is more important than ever. Google's newest algorithm is the Helpful Content update, which stresses providing helpful and written content with humans in mind.

Use Keywords
Focusing on humans doesn't mean that keywords aren't important – they are. Incorporate keywords throughout the site but have a plan for the keywords and write content that real people want to read and find helpful.

Feed the Blog
One easy-to-ignore area is the news page or blog. Spend some time working on a list of topics and writing content that is relevant and helpful for the target audience. Each new blog post adds a page of content to the website and provides optimization opportunities for URLs, meta descriptions, keywords, alt tags and more. Blogging alerts search engines to new content or information, providing a reason to crawl and index the site again.

Google Business Profile
Google Search and Maps come together in a Google Business Profile. This free listing is often the first place potential buyers find home builders and real estate developers on the internet, and it serves as a way to increase website relevance. Building this profile out provides Google with yet another way to validate a home building or development company as a real place. Make sure to add all pertinent information – company name, address and phone number – as well as hours of operation, photos, blogs and more.

Supplement SEO with PPC
Because SEO takes time, be patient. The long-term results will pay off, but in the meantime, one strategy to show up higher in the search results pages for specific keyword searches is to invest in Google pay-per-click (PPC). Buying PPC guarantees that a company will show up and rank organically for the particular words bid on, and over time, the PPC budget decreases as the organic search starts to fill the void.
Organic Social Media
Organic social media provides super creative solutions for attracting and engaging consumers. Facebook, Instagram and LinkedIn continue to lead the pack related to home builder and real estate developer marketing. We have a few tips for breaking out of the pack and showcasing homes and communities on these sites.

• Instagram Reels – Make the most of these 90-second videos by stitching together photos or video clips, using trending music, adding a cover image and using text. Save a draft of the reel so you can go back and edit it if necessary without having to start over. When posting, use hashtags in the caption and choose trending music by searching for trending Instagram Reels songs -- this gets Reels to go viral.

• Facebook & Instagram Stories – Stories allow home builders and real estate developers to connect with customers authentically and boost engagement and eyeballs on site. Facebook Stories can be photos or videos, and the best part is that you can link within stories to direct followers to a website, blog posts, etc. This is huge for Instagram, where links can't be added to organic posts.

• LinkedIn – Think of this B2B site as a conduit to reach Realtors and other professionals in and outside the industry. Home builders and developers can share news about upcoming projects, awards, new hires and more on this site to keep industry influencers and potential home buyers in the know.

• Vertical Video – Community and home pictures are typically shot horizontally, but popular sites like TikTok display videos in a vertical format. Ask the photographer to shoot homes and communities in horizontal and vertical configurations to maximize exposure to target audiences on TikTok, YouTube Shorts, Reels, etc.

• Customer Service – Consumers often find that social media is the fastest way to connect with and get an answer from a brand or business. This reality has led to social sites becoming a hub for customer service and support. Focus on timely responses to customers on social media sites. If homeowner warranty and communications are best handled on another site or through a more established method, communicate this information to your potential buyers and homeowners.

• BeReal – BeReal is a new social media site focused on being authentic in the moment. The site is free of filters, followers and prep; it is all about posting what is going on in your life. The growth of this site makes it worth exploring for business. Visit the Apple App Store or Google Play Store to download the app and test it out.
Invest in an Online Sales Consultant (OSC)
Working leads and ensuring prospects get the attention they need is more critical than ever. It is a perfect time to invest in an Online Sales Consultant (OSC) and ensure they are trained to nurture leads. An OSC can impact growth, sales, referrals and even reputation. Savvy home builders and real estate developers onboarded this position during Covid-19 to handle the plethora of leads and inquiries coming in and have now transitioned this position to take a deep dive into building relationships with new leads and reinvigorating old stale leads. A well-trained OSC, combined with a practical CRM (customer relationship management) tool, is powerful.

Look for an OSC to help in these areas:

Customer Nurturing - Rather than simply supplying information on available homes and waiting on the buyer to make the next move, OSCs guide buyers and help them navigate home plans and community choices with a clear focus on learning about their needs and expectations. This ensures that the path to buying a home is smooth and the process is as streamlined as possible. OSCs are responsible for sustaining good lead relationships while producing fantastic results and generating outstanding business growth.

Mapping the customer journey - Customer experience is essential in serving potential real estate buyers. Online consultants pave the way by ensuring the homes and communities have a solid online presence, including professional photography, virtual and 3D tours, and videos so homebuyers can easily experience the home and community online. They also manage online inquiries promptly to improve the customer experience and assist home buyers in their home search in a personal way.
Stale Leads – Most home builders and developers have an abundance of leads from 2020 and 2021 that never turned into a sale. However, it would be short-sighted to assume that these people bought elsewhere. Work with your OSC to host a revival campaign to reengage with these older stale leads. Maybe it is as simple as asking them if they are still in the market or asking to confirm their information to help update the database. The OSC can always send information on a new community or product and find out if they are still shopping.
Advertising & Retargeting
Advertising aims to reach new people within a target audience with information on products and services to entice them to buy. With digital advertising, there are lots of choices for reaching consumers. And through retargeting, a home builder or developer can get ads in front of this same audience a second or third time.
Google Pay Per Click (PPC)
There are two ways to reach people searching for your product or services online when they don't know the company's name – organic search engine optimization (which we discussed on page 3) or PPC. With PPC, a company builds an advertising campaign around specific keywords. Consumers unfamiliar with the company won't search for the company website; instead, they will search particular keywords associated with a product or service. For instance, the keyword might be "new homes in Tulsa." When a consumer searches for these keywords, the ad for the builder, master planned community or real estate developer will appear. When they click the ad, the advertiser is charged, and the ad click takes them to your website.

Going beyond basic PPC ads, several advancements make these ads more effective. The first is to direct the ad clicks, thus the consumer, to a dedicated PPC landing page. This landing page will provide relevant information and a clear CTA, usually a form to request more information or download a brochure. The buyer is seeking compelling copy and a message that matches the ad. Most landing page experts advise keeping landing pages clean of other navigation to keep buyers hyper-focused on why they clicked.

Now that you have attracted potential buyers through PPC ads consider retargeting them through PPC ads. This is an easy way to reengage likely shoppers who have already been to your website. In this instance, ads will appear not as text but as graphics on other sites the buyer visits. Retailers often retarget consumers who abandon their shopping cart via retargeting ads.

Retargeting ads typically have a high ROI because they retarget people who have previously shown interest in your homes or communities.
Paid Social Media
Social media advertising targets potential future homebuyers early in the home buying process, and Facebook currently provides the best ROI in social advertising. With 2.9 billion people worldwide using the site, it's a good bet your target audience is on the site too.

Web Clicks – Facebook web click advertising sends traffic from the ad to the targeted home builder or developer website. Some tips to make these even more effective:
• Utilize UTM tracking codes for each URL to better track people who click through in your Google Analytics.
• Across the board, videos perform better than still images in advertising. Video ads can be created in Facebook Ads Manager using still photos.
• Dynamic creative is a great option. Let Facebook's AI do its job; upload a bunch of creative and allow it to determine what performs best among your various audience members.

Boosted Posts – Facebook boosted posts drive engagement and get more eyes on home builder and real estate developer Facebook pages. Social media has become a bit of a double-edged sword in that it is free, but to get results, it is pretty much a pay-to-play site. As a home builder or developer, boosting posts is a consistent way to get page followers and others to interact with the page's content. Make sure to boost posts regularly because the Facebook algorithm only serves page content to 6% of page followers.

Another tip: don't click on the blue boost button from the front end of Facebook. This severely limits ad options and choices. Going through the Facebook Ad Manager provides enhanced opportunities.

Facebook Targeting – Keep Facebook ads geographically relevant. Target people who like Realtor.com, new homes, etc., but keep the audience very broad. Make sure the Facebook pixel is set up correctly on your website to create custom audiences.

Remarketing – Facebook remarketing is a stealthy way to stay in front of prospects who have previously interacted in some fashion with your company. Consider adding lists of prospects from your CRM, email marketing, etc. The Facebook pixel can target people who are already engaged with your page.
MLS Listings
One way to get homes and communities in front of Realtors and coop sales agents is to include more MLS (multiple list service) listings. It may have been enough to list just one home for the past few years, but now it is time to showcase a several homes to grab the attention of realtors and home buyers. Let Realtors know that inventory is available to show, giving their home buyers more choices.

Photos are essential to a good MLS listing. Take quality photos and include as many as possible. Show everything from the home's curb appeal and how it flows to the backyard and outdoor living options.

Other media. Some MLS systems allow virtual tours, videos and other media to be uploaded. Check to see what options MLS allows and max out the media to showcase available homes.

Descriptive copy. Although limited on the amount of copy that can be uploaded in MLS, highlight the most prominent home and property features and write descriptive copy. Make the content engaging and tell a story if possible. We've all seen examples of cleverly written MLS copy, so why not take a stab at it?
Listing audit. Audit your MLS listings regularly to ensure pricing is accurate, add new photos, check contact information, etc.
Third-party Listing Sites
Looking for more people to see your homes? Remember that birds of a feather flock together, and home shoppers looking for homes flock to third-party sites like Realtor.com, Zillow and New Home Source (BDX), where they can see and compare many houses in one place.

Most of the basic listing information will pull from MLS to these third-party sites, but to get listings to show up higher in the search or be featured, home building and real estate development companies will need to pay a fee to feature or enhance them.

Break free from the masses on third-party listing sites by enhancing listings and running banner ads.

Zillow allows new construction listings to add floor plans, pictures and videos. Home buyers can search for new construction homes and resale homes, or they can choose to shop only for new construction listings.

New Home Source is a new home listing service catered to delivering quality traffic to home builders and real estate developers. The site drives traffic to listings through strategic PPC targeting various keywords. Homeowners can review the homebuying process offering a transparent representation of home buyer sentiment.

Realtor.com has a monthly audience of 1 million people. They offer performance-driven solutions for listings, creating awareness, extending reach, etc.
Display Ads
Display ads are graphics that include images, text and a clickable URL that directs the home buyer to a site where they can find more information about the home or community. These ads can be static with just one image or be animated and include videos or multiple images and text that rotates. Banner ads are a common form of display ads often used for awareness campaigns. All display ads should utilize UTM (Urchin Tracking Module) tracking to analyze performance of campaigns.

Remarketing Ads. Most display ads that consumers see today are remarketing ads. These ads provide a way to get messages in front of an audience that has previously seen the message in a different format. The previous interaction could be on a website, via email or by visiting a community in person.

Personalized ads. These ads show products based on the consumer's interaction with your website. So if a potential home buyer has interacted with a specific community or clicked on a special financing page, they will see ads related to these topics.

Contextually targeted ads. These topic-targeted display ads are more site-specific, so they appear on sites similar to the advertised topic.

Site-placed ads. This strategy is when the advertiser chooses the specific site that they want ads to display on -- this can drill down to a particular page within a website.
Visual Media
Imagery creates the first impression of a home or a new home community. They showcase a strong vision of your community or new home design while creating a positive emotional response. Today's home buyers have high expectations related to visual media shown by home builders and real estate developers on websites, in social media, and they want to shop online and thoroughly explore homes before visiting in person.

Professional photos. Investing in original professional photography keeps projects on-point related to branding. Images used in marketing should be original photos, not stock photos. Professional photography attracts attention and provides transparency. Most people recognize stock photography as posed, and it should be used sparingly as it doesn't resonate well with buyers.

Videos. Videos bring new homes and communities to life. For home builder and real estate developer marketing, this is an essential strategy as home buyers comb through content online before visiting the community. The community can convey its lifestyle, home quality and unique features with video. Video evokes emotional connections and catches consumers' attention. Consider adding a variety of video content to your marketing tactics:

• Corporate story
• Community overview
• Home tours
• Amenity overview
• Happy homeowner testimonials

Virtual Tours
Homebuyers enjoy getting an in-depth look at the available homes within your master-planned community with 3D virtual reality tours. Virtual tours can either showcase already built homes and provide home shoppers a tool to tour them, or a virtual tour can provide a realistic computer-generated model of a home that isn't available in that community or, in the case of a condo, isn't built anywhere yet. Buyers get a first-hand feel for the space with this immersive experience.

Some virtual tours, like Matterport, take homebuyers on a 3D walkthrough on their computer from the comfort of their home. And with other cutting-edge technology, like Oculus VR, buyers use a VR headset at the sales center to tour the home's interior.

Renderings
Photorealistic renderings are the perfect way to showcase homes that have not been built yet on a home builder's website. With technological advancements, these renderings have dropped tremendously in price and are now less expensive than watercolor renderings. Photorealistic renderings sell more homes as home buyers prefer these images over line drawings of front elevations. And not having an image is not an option. Photorealistic home images offer a clear view of the outside of the completed home.
OTT/CTV Advertising
OTT/CTV Advertising
Over-the-top (OTT) ads or connected TV (CTV) ads are delivered through an internet connection to a TV. These ads are referred to as OTT because they run over the top of other platforms, such as Netflix, Amazon Prime, Xbox, Roku, Apple TV, or Hulu. OTT ads offer home builders and real estate developers opportunities to reach new audiences, as streaming video content is more popular today than traditional cable and broadcast TV. And most OTT ads can't be fast-forwarded, so viewer rates are high, and less exposure is required for results.

Cast a Wide Net
When using OTT advertising, cast a wide net to learn about your audience and where to spend the budget effectively. For instance, targeting home and garden shows might garner people looking to buy their next home, but targeting cooking shows might attract an even broader audience. Until you know which target is more effective, include both and many other niches. Don't drill down too soon, as you'll likely discover like-minded audiences that perform just as well or better than the intended audience.

Retargeting
OTT can also retarget people who have already shown interest in a brand. Keeping viewers engaged with your brand is more impactful when it reaches them across multiple screens and devices. This is a considerable advantage of OTT/CTV viewing as it opens innovative retargeting tactics to focus efforts on interested audiences only. Once an ad on the big screen is viewed to the end, retargeting technology can deliver additional ads on other internet-connected devices within the same household. After discovering your ideal audience, consistent messaging drives brand engagement, and recognition with compelling results.

Interactive
OTT ads allow advertisers to interact with viewers. One example is when the advertisement asks the viewer to pick from 2 or 3 ad experiences and caters the commercial to them. Other examples include CTA buttons, dynamic content, and gamification. Providing the viewer with interactivity and choices can increase visibility and brand awareness.
Streaming Audio and Radio
Streaming Audio
Over the last several years, more consumers have shifted to an on-demand entertainment model to enjoy movies, shows, news, music and podcasts – the pillars of streaming audio. Audio is a staple in the advertising industry and streaming audio is taking it to the next level. The beauty of streaming audio is listeners can access their on-demand audio across multiple devices, channels and platforms, creating the perfect way for home builders and real estate developers to locate their target audience. It also presents real opportunities to connect with prospective home buyers wherever they listen whether that is at the gym, multi-tasking at home, on the way to work or anywhere.
Advanced Targeting and Tracking
Streaming audio is on-demand and airs when consumers want it to. This component of streaming audio removes the guessing game on when is the ideal time to serve an ad to a prospective home buyer because this medium allows you to know when and where to find your target audience. Home builders and developers can broaden their reach and greater target their ideal audience by incorporating multiple audio platforms. Streaming audio also allows you to target your audience by exposing them when they stream vs. hoping they are listening when ads run. Home builders and real estate developers can use advanced targeting to find and reach their target audience through demographic, interest, geolocation, device type, genres, playlists and much more. Streaming audio also provides valuable reporting similar to other digital tactics to track the success of campaigns and key engagement metrics.
Retargeting
Streaming audio can also retarget people who have already shown interest in a home builder or a community and can continue to keep prospective home buyers engaged. For those taking advantage of streaming audio, audiences can be retargeted with both streaming TV and Audio. This allows home builders and developers the ability to retarget previously exposed listeners with multiple creative to make sure prospective home buyers get the full message about your homes and communities.
Traditional Radio
Despite the growth and popularity of streaming audio, traditional radio continues to be a powerhouse for audio consumption. With more drivers on the road than during COVID-19, many adults enjoy traditional radio while they commute providing a captive audience with less distractions. Traditional radio can also offer an effective way to deliver your message effectively to local audiences. It is worth researching traditional radio and streaming audio to select the best platform to reach your target audience.
Quarterly Home Buyer Promotions
Quarterly Homebuyer Promotions
Attracting the attention of your target market takes time and effort. Often breaking through all the online noise is a challenge. One way home builders can successfully do this is with quarterly promotions. These home buyer campaigns can highlight anything from a community grand opening, a new floorplan, a partnership with a charity, an Instagram contest, discounts on upgrades, free basements or special financing. Ideas for quarterly promotions are infinite; get creative. Themes and taglines are essential elements as they provide attention-grabbing hooks. Campaigns of this nature focus on a central message delivered to the target audience via a broad spectrum of marketing tactics. Some tactics might include a website banner, blog, Facebook organic posts, Facebook ads, Google PPC ads, email marketing, flyers, etc.
Realtor Outreach and Realtor Relations
Realtor Outreach and Realtor Relations
During Covid, the homebuilding industry lost focus on an important group – Realtors. It's time to step it up and show some appreciation. Different levels of Realtor campaigns can be developed from relatively inexpensive to extravagant.

For monthly Realtor office outreach, create themed impact gifts with coordinating flyers to make an impression. The gift could be as simple as a cake or cookies. Using a QR code on the flyer makes it easy for Realtors to get more information on your community.

Host Realtor luncheons and CE credit classes to get this targeted group to visit communities and tour model homes. Consider a wine and cheese event or a progressive dinner that moves through the community's model homes. Offering Free CE classes is a great tactic to bring realtors to your community and can easily be hosted in a community clubhouse. These events are great ways to network and form relationships with this key audience.

Realtor bonus programs offer incentives for sales, and there are tons of fun ways to run these programs. One idea incentivizes the Realtor or agent at every step of the buyer's journey:
$25 gift card for preview
$100 gift card for a registered client showing
$500 gift card at the time of accepted contract
$1,000 Bonus or higher commission rate at the time of closing

To be effective, bonus programs should have an extended life, until the end of the year, for example, not short term. Realtor frustration can run high when bonus programs have short time limits, as their client's time frame usually dictates when they can show homes.

Realtor programs should be viewed as long-term branding and loyalty campaigns, not short-term sales boosters.

Another nice way to show appreciation to Realtors is with an annual appreciation dinner or party at a nice club or restaurant. Invite all the Realtors who sold one of your homes during the year. Again, this could be a simple appreciation dinner, or it could be a more extravagant evening with casino games and prizes for the Realtor who sold the most homes, cruises for the top 10 Realtors, or a drawing from all attendees for a chance to win a grand prize.
Homeowner Referrals and Referral Programs
Ask your happy homeowners to refer their friends to you and pay them for these referrals. There is no better referral for your company than one from a current happy customer. Most home builders require that referrals are registered with the referral program before registering via their Realtor or directly with the builder. And referral fees vary widely. These fees can also be extended to other industry professionals, and often they are called finders fees. Create a page on your website where homeowners and others can refer their friends to you.
Events
Events are finally back in person, and people are ready to leave the house. Homebuilders can create fun events to showcase their homes and communities while building brand awareness and loyalty. Consider hosting a grand opening event for a model or a community with a food truck or a fun spring festival with face painting, popcorn, funnel cakes and a magician. Themed events are always popular and provide a fun hook for publicity.

Remember that events don't have to focus only on home buyers; consider hosting homeowner events too!

Marketing in a Housing Recession

As your home building or real estate development company starts to ramp up its marketing and find new ways to drive quality traffic, remember not every tactic will be a fit for your unique business model. It is going to be important to try new things and experiment.

Navigating slower times may get frustrating at times, but remember you are not alone. Milesbrand is here to help. Refer to this guide for new ideas or new twists on old ideas, or just to remember all the tactics we employed back in the day!

If you need help creating a marketing strategy or pulling these ideas together into a cohesive plan, contact Milesbrand.

Let's Chat
720-543-0617
info@milesbrand.com